The biggest American Solar company First Solar had produced this 105W solar panels at their Malaysian Factory!
They can produce power even under low light, No shading and overheating that will cause lower efficiency!
Generally produces 6-8% more than Old Silicon Panels!
They are Glass Panels can be used as Building materials for a BIPV structures.  More esthestically pleasant than conventional roof top Silicon PV array.  (Which architects called them "Visual Pollution"!)
Solar Patio sample using similar Solar Glass, First Solar's Glass panel is not light transmissive, totally Opaque.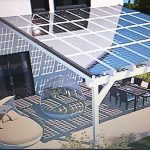 Regular Price for single piece is $120 and buying more than 20 pieces for a project, price is $90
50 pieces on pallets, currently 2 pallets are available!
Here is the spec sheet: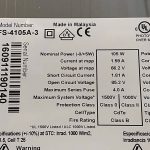 Here is the composition of all the layers of thin film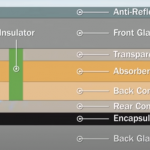 BIPV Solar Patio using similar Glass Solar Panels: