GE-302:  Go! Electric! 500W Hippo
Electric 
3 Wheel Cargo Scooters!
Scooter Extended size: 65″ x 28″ x 40″, Weight: 258 lbs!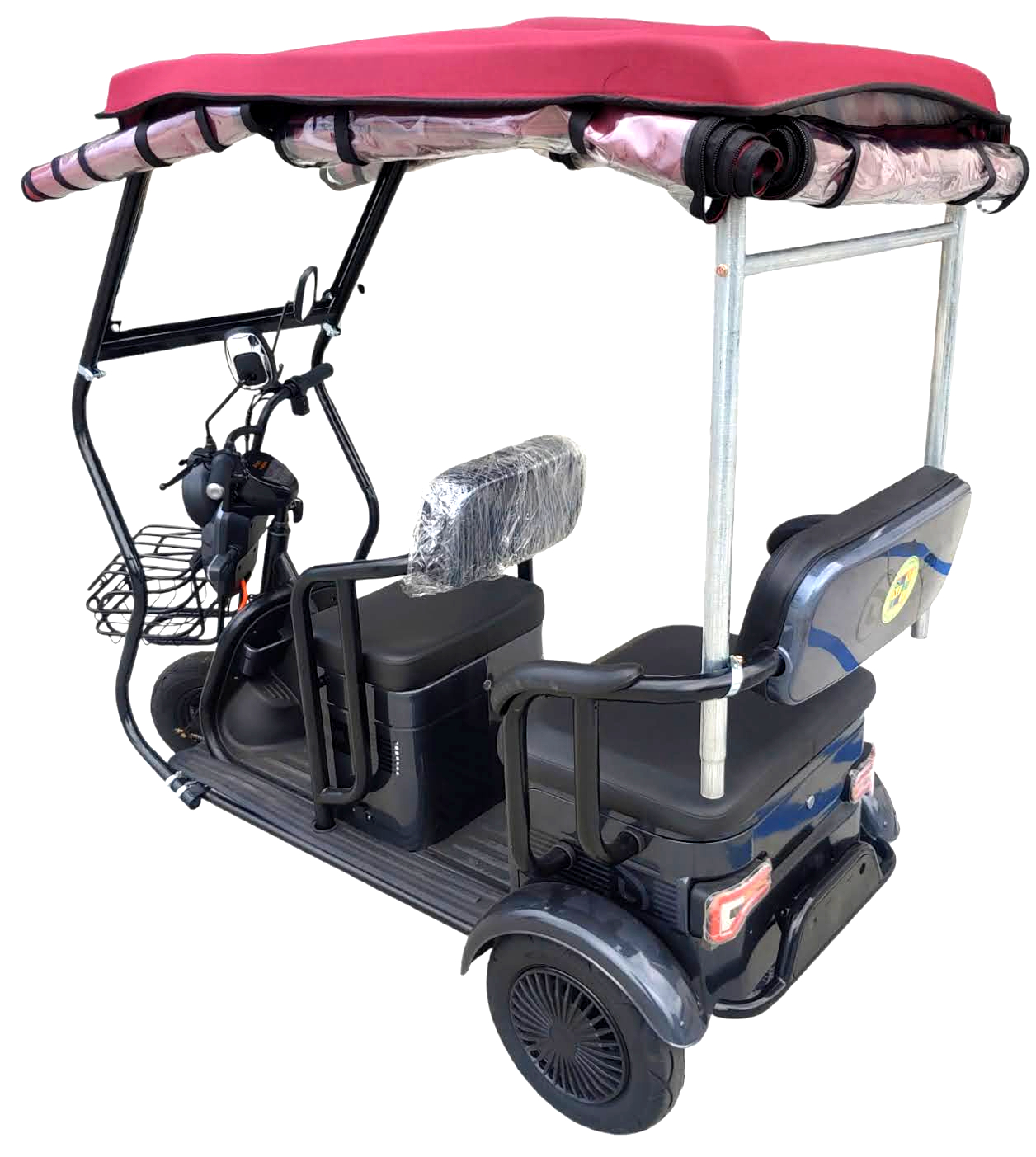 Big 3 Wheels Scooter, 500W motor, 60V/20A Solid Gel Type LA Batteryies
Comfortable Seating, Basket
3 Speed Selection, Forward or Reverse Drive
Head and Tail LED Lights, front and Back Turn Signal Lights
Like a Real Car!!
Electric 3 wheel scooters is street legal(Only motor size over 1000W needs to register at DMA and license fee is $10/year.   This model is 500W only!)
Three-wheelers are registered as motorcycles but do not require a motorcycle license or helmet.
The vehicles are not subject to the same crash testing as four-wheeled cars and SUVs.
Electric three-wheelers are eligible for a $750 rebate from the California Clean Vehicle Rebate Project.
****Adding a Sunshade Cover $200 extra
****Adding also Rain Shield $100 extra
****Adding a 100W solar panel to charge the battery and make it a Solar Scooter, $100 extra
Lead Acid Battery or Lithium Battery pack can be charged by Grid or Solar Power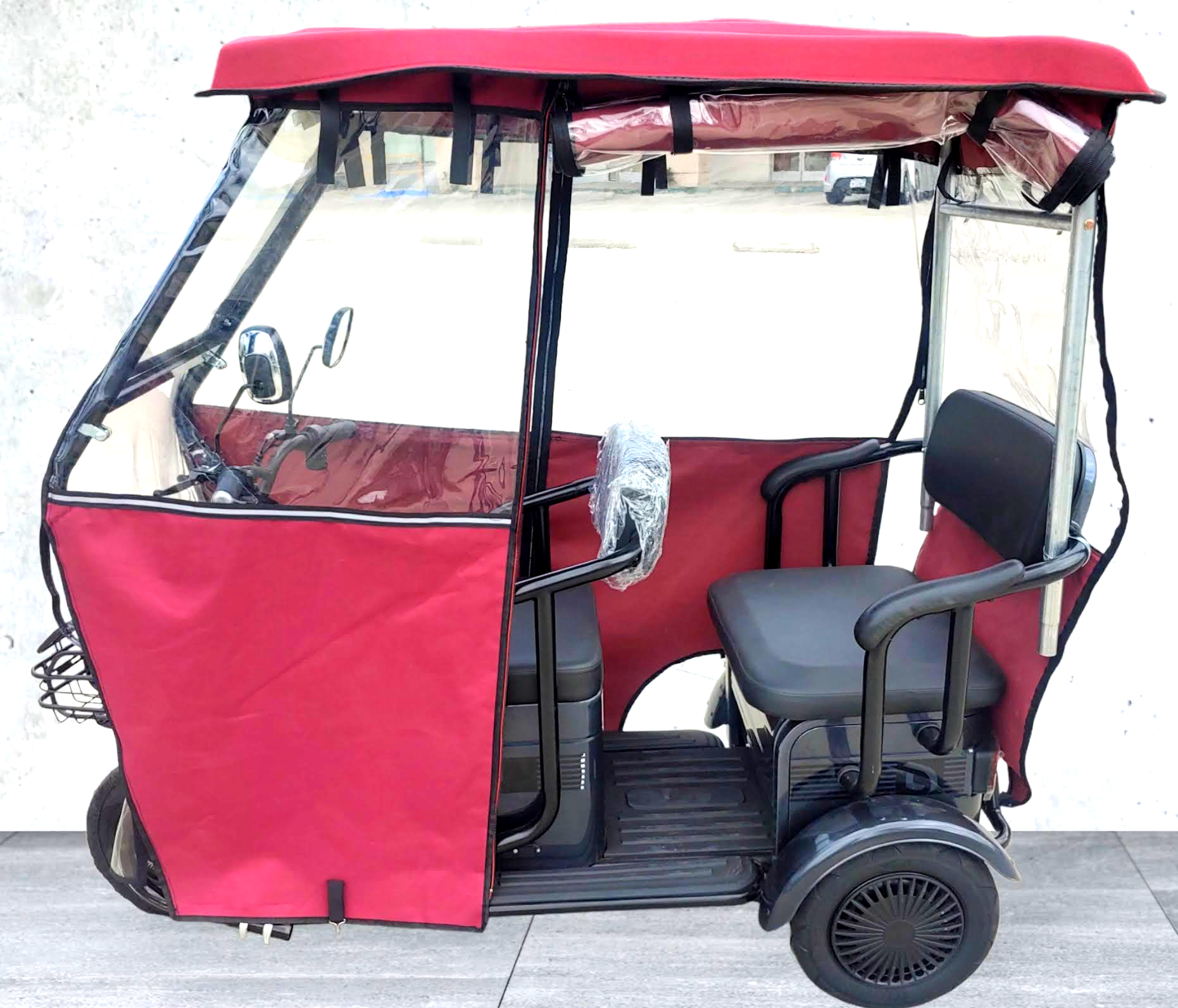 Other options: you can buy our Lead Acid Battery pack below or get your own Lithium Battery pack!
Option 1 – Lead Acid Battery Pack
Price included 60V/20Ah SLA battery pack which cost $250- Range about 30 miles
GE-004:  Go! Electric! 12V x 4 =48V Lead Acid Battery Pack for Electric Scooters
Option 2 – Safety Helmet – $29.99
Option 3: 60V Electric Scooter Charger $39.99 which is included
Shipment: Local Pick up only
*********************************************
Electric Scooters: The Future of Urban Mobility(Note:  Following text generated by smart ChatGPT)
Electric scooters are rapidly becoming the preferred mode of transportation in cities around the world. Here are some of the key benefits of using an electric scooter:
Affordable: Electric scooters are an affordable option for those looking for an alternative to cars or public transport. They require minimal maintenance and are much cheaper to operate than cars or motorcycles.
Eco-friendly: Unlike cars or motorcycles, electric scooters produce zero emissions, making them an eco-friendly transportation option. By using an electric scooter, you can reduce your carbon footprint and help protect the environment.
Cheaper Fuel: Electric scooters are powered by electricity, which is significantly cheaper than gasoline. With electric scooters, you can save money on fuel costs and enjoy a more cost-effective transportation option.
Convenient Recharging: Electric scooters can be easily recharged at any electric outlet, providing a convenient alternative to finding a gas station. Simply plug your scooter in and let it recharge, allowing you to hit the road again in no time.
Convenient: Electric scooters are lightweight and compact, making them easy to park and store. They are also perfect for short trips, allowing you to easily navigate through traffic and reach your destination quickly.
Fun and exciting: Riding an electric scooter is a fun and exciting experience. It's a great way to explore the city and enjoy the fresh air while avoiding traffic and public transport crowds.
Saves time: Electric scooters can save you time, especially during peak traffic hours. They are faster than walking and can help you avoid traffic jams, so you can get to your destination more quickly.
Ready to experience the benefits of electric scooters? Visit our website to learn more and book your electric scooter today.