Super Bright COB LED Solar Security Shoebox Road Light. Can be mounted on Pillar, Post, Fence. Garden outdoor or on your barn, your RV, your boat, where ever you like !
Turn on the light switch for light sensor to work.  Day time Charged up the battery inside by Solar Power and Light Sensor will turn it on at nights.  Or select the Motion sensor feature, only turn on the light at nights when warm bodies passing by.  Either human or dogs/cats.
Multiple ways to turn on/off the light, a remote is included for home owner to control from the house.
Easy to mount, bracket included!  Motion sensor is very sensitive, reliable good quality!!
Control Buttons:
1. Power On
2. Power Off
3. Mode #1 – Detection Mode, Full Bright light will be on when a warm body passes by.  And auto shut off 15 seconds after the warm body leaves
4. Mode #2 – Detection + Dimmer Light, warm body passes by turns into full light.
And auto switch to dimmer light 30 seconds after the warm body leaves
5. Mode#3 – Dimmer Light – from Dawn to Dusk, always on
User Manual: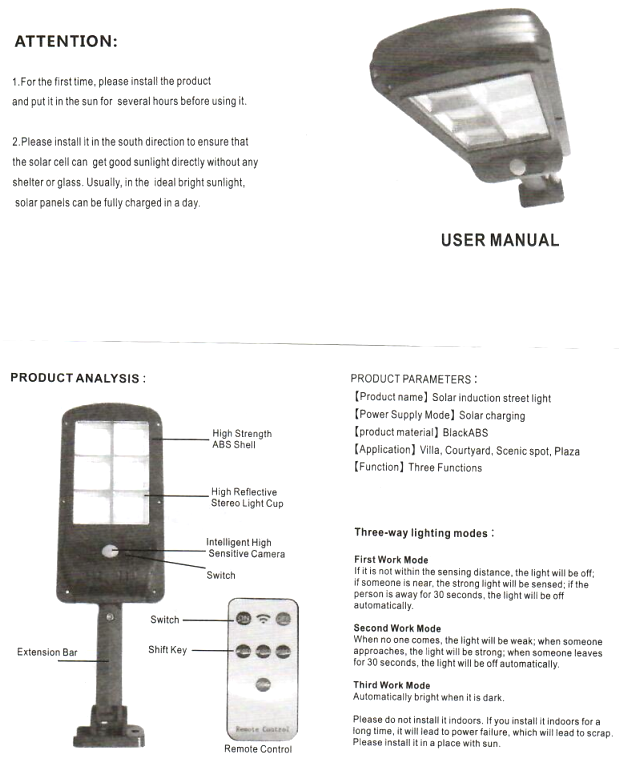 Product Information:
Dimension: 11″ x 5″ x 3″
Weight: 15 oZ
To place online order, please check out this site
https://symmetryco.com/solar-shoebox-security-light