GE-302:  Go! Electric! 500W
Electric 
3 Wheel 3 Seats Cargo Scooters!
Scooter Extended size: 60″ x 40″ x 30″, Weight: 258 lbs!
==>This scooter is coming in 2023!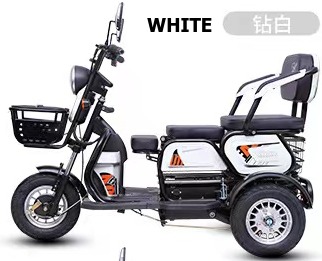 Battery operated or foot pedals operated(Human Power)
The rider's seat can be moved to the back and turned into a passenger seat and a flip up square seat under the original
the rider's seat will be the new rider's seat.  And a small fold up children's seat in front.  So that this scooter can have 3 passengers.
Lead Acid Battery or Lithium Battery pack can be charged by Grid or Solar Power
Scooters price without battery pack, you can buy our Lead Acid Battery pack below or get your own Lithium Battery pack!
Option 1 – Lead Acid Battery Pack
$149.99 for 48V/20Ah – Range about 30 miles, regular price $199.99
GE-004:  Go! Electric! 12V x 4 =48V Lead Acid Battery Pack for Electric Scooters
Option 2 – Safety Helmet – $29.99
Option 3: 48V Electric Scooter Charger
Shipment: Local Pick up only