LED Panel Light, this new lighting had replaced the old Ceiling Lighting. It can save 50~70% of electricity.
So business owners is not "Spending" money to replace the old energy sucking lights.  But to invest and gain
payback and reward in about 5-6 months!   The LED Lighting can help you save power bill!
Great for Offices, Classrooms, Meeting Rooms. Supermarkets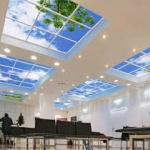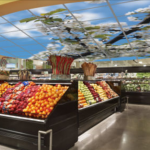 China had been adding Sky Blue Print on them for Hospital Wards, to Cheer up Patients that could not go outdoor.
The 6000K light imitate Peak Hour Sunlight can energize anyone.  Including the sick persons or Senior Home!
According to study, using 6000K lighting.  Workers will not feel sleepy as the bright light can keep them energized.
Make the office place more efficient!     Also according to study of 2 same stores, the one with 6000K bright light, the sales is 30% more than the other store.  Because the consumers are energized and not sleepy.  They will buy more.  And the 6000K bright light makes the merchandises more attempting to buy more!