LED Panel Light, this new lighting had replaced the old Ceiling Lighting. It can save 50~70% of electricity.
So business owners is not "Spending" money to replace the old energy sucking lights.  But to invest and gain
payback and reward in about 5-6 months!   The LED Lighting can help you save power bill!
Great for Offices, Classrooms, Meeting Rooms. Supermarkets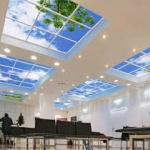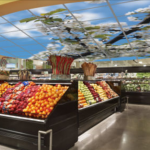 Adding Sky Blue Print on them for Hospital Wards, to Cheer up Patients that could not go outdoor.
The tunable 3000/3500/5000/5000K light can be selected to fit individual requirements.
Power output can also be adjusted from 20W to various wattage
For Size: 2′ x 2′ and 4′ x 1′:  20/25/30/35W selectable from dimmest to brightest
For Size: 4′ x 2′:                     35/40/45/50W selectable from dimmest to brightest
High Efficiency: 125 lumens/watt