Mini Programmable by PC or Bluetooth, Rechargeable LED Digital Scrolling Badge.
Not to waste paper name cards for trade shows, convention, meetings!
Also for restaurant service to win big tip by friendly displaying your name and a greeting!
It blinks to get the attention of customers. From experiences, shoppers customers like to call for helps from somebody he
can address him or her by their names!
And a greeting message showing your appreciation for their business can boost the morale!!!!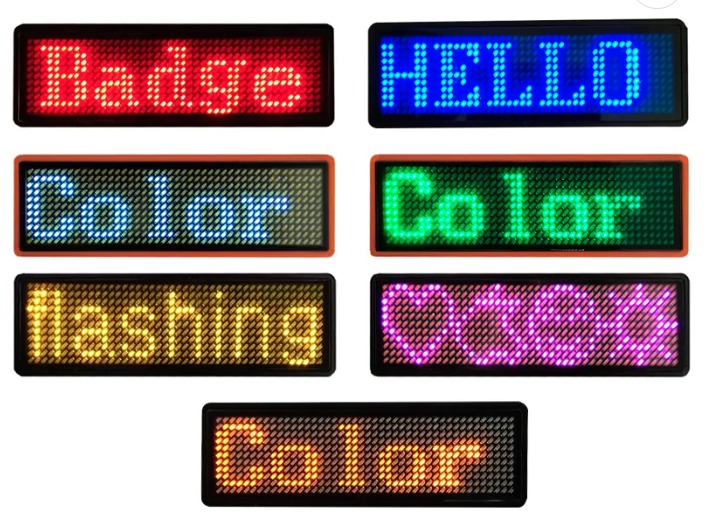 This can help to save environment, Reusable for many times!  
Description:
Screen Size:3.6″ x 1.2″ x 0.25″ (9.2*3*0.6 cm)
Case Colors: Black or matching LED's Colors
LED Colors:  Red /Blue/Green/4 Colors for Window Operated Badges
                        Red/Blue/Green/White/Yellow/Orange/Pink/4 colors for Blue Tooth Operated Badges
Brightness Control: 3 Levels (20%, 60% and 100%)
Display Language:15(English, Chinese, Russian, Turkish, Polish, Korean, Japanese, Spanish, Vietnamese etc.)
Program: 10 programs, 2000 English Characters
Battery:Rechargeable 230 mAh Lithium Battery
Faster:  Safety Pin or 2 small magnets in the back to pin on your clothing/hats
Features:
1.Fashion and Eye-catching, The best choice for your Business
2.Easy to use, Programmable through your PC or Bluetooth ,Just plug in and Play
3.Software have 15-languages versions
4.Support all the Fonts in your computer, Support gif/jpg/bmp/png formats images
5.Adjustable Brightness in 3 levels(20%,60%,100%) by long press the button in the back
6.With a Rechargeable 230 mAh Lithium battery (Built in),it can run 12 hours or more in full brightness mode
7. Use 5V Power supply,With Battery capacity display, Just connect to the USB port of your computer when power is lowNote:
The product needs to be programmed by running the program only by the Windows operating computer.
Bluetooth will need to download a cell phone App to be programmed by your smart phone or computerPackage Included:
1x Main Body(Software stored in, Recharge-Battery Built in)
1x USB Cable(Micro-USB)
1x Instruction
Here is an operational video for connection to cellphone's Bluetooth
**********************************************************************
New Multi color LED Badges added to the collections:
Mini Programmable by PC or Bluetooth, Rechargeable Digital 4 Colors LED Scrolling Badge.
Description:
Screen Size:9.2*3*0.6 cm
Case Color: All Black
LED Color:  Multi 4 Colors – Red/Blue/Green/White Scrolling
Display Language:15(English, Chinese, Russian, Turkish, Polish, Korean, Japanese, Spanish, Vietnamese etc.)
Program: 10 programs, 2000 English Characters
Battery:Rechargeable 230mAh Lithium Battery
Fastner:  Safety Pin or 2 small magnets in the back to pin on your clothing/hats
Related helpful Videos:
Here is an operational video for connection to cellphone's Bluetooth
Here is a Video Showing the multiple Colors scrolling across the panel
****************************************************************
What is available:
Window Operating System
=====================
1. Window-Red in Silver Case
2. Window-Green in Silver Case
3. Window-Blue in Silver Case
4. Window-4 colors in Black CaseBluetooth and Window Dual operating System
===================================
1.   Bluetooth-Red LED in Black Case
2.   Bluetooth-Red LED in Red Case
3.   Bluetooth-Blue LED in Black Case
4.   Bluetooth-Blue LED in Blue Case
5.   Bluetooth-Green LED in Black Case
6.   Bluetooth-White LED in Black Case
7.   Bluetooth-White LED in White Case
8.   Bluetooth-Yellow LED in Black Case
9.   Bluetooth-Yellow LED in Gold Case
10. Bluetooth-Orange LED in Black Case
11. Bluetooth-Orange LED in Orange Case
12. Bluetooth-Pink LED in Black Case
13. Bluetooth-Pink LED in Pink Case
14. Bluetooth-4 Colors in Black Case