SM-268 Solar+ Dynamo+5V USB,  3 way charging Radio
Multi function Portable AM/FM/SW Radio+MP3 Player+ LED Flashlight+Lithium Battery
Portable Size Solar Radio for outdoor camping or emergencies!
During Peaceful time, the Solar Radio helps you to save Electricity, listen to music, turn on bright LED light for free!
During Emergency, Earthquakes, Hurricanes, Forest Fires, Power Outages etc.
Tune in and listen to Radio Announcement to learn where to get relief or evacuation.
Main Features:
Model Number: SM-268
3 Way Charging:  Solar, Dynamo & USB port charging
Function: MP3 Player
USB, TF card Reader
FM/AM/SW 3- Band radio
LED Flashlight
Battery: built-in rechargeable 18650 Li battery
High Sensitivity Antenna
Key Specifications:
Available Colors:  Black, Gray and Red
Dimension: 7″ x 3.25″ x 4.25″
Weight:  1 lb  4 oz
Packing Details: 1 x Radio, 1 Micro USB/USB connection cord
Grey Color: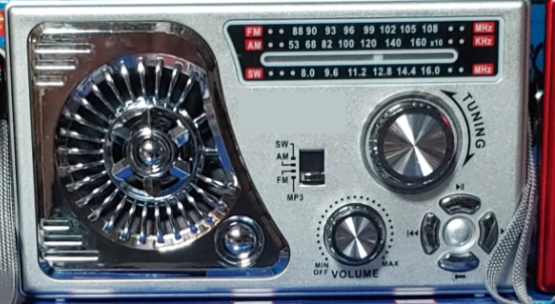 Red Color:
Black Color: