This is a Tribrid Inverter!
It's an inverter to convert Solar, Grid power to 110VAC or 220VAC and can add a battery charger to store the power  at optional battery pack.
You can draw power instantly without battery backup!
Nicknamed The Crab with it's 8 MC4 connector Claws to grab 4 different Solar panels.  Can be in different wattages.  The Crab will convert all power generated from the 4 solar panels to True Sine Wave 110VAC.   The Crab is designed in US, Patented, UL Certified for off-grid or grid tied applications.
Model #1000NA – Grid Tied Mini Inverter Spec Sheet Download 
===>Solar Mini Inverter – Grid Power can be a backup secondary power source
Model#1000NX –  Off Grid Mini Inverter Spec Sheet Download
===>Solar Mini Inverter for Off Grid 1200W System , completely independant of Grid power. This is a Solar Generator just like Diesel Generator
Model#1000H – off Grid Mini Inverter for Solar Hot Water Heater
Please check the second page of the UL certificate, it's proved off-grid.
Power can be drawn from the grid as backup power when PV is down, it an one way path, not biway.   Power from the PV array will not be sent back to the grid.  So it's proven off grid by UL lab.
1. Firstly from Solar, 4 sets of MPPT charge controllers and Inverter on board will convert solar to 110VAC power supply
2. Secondly from Grid or generator
3. Thirdly battery – Inverter can convert battery's stored Direct Current to 110VAC to supply appliances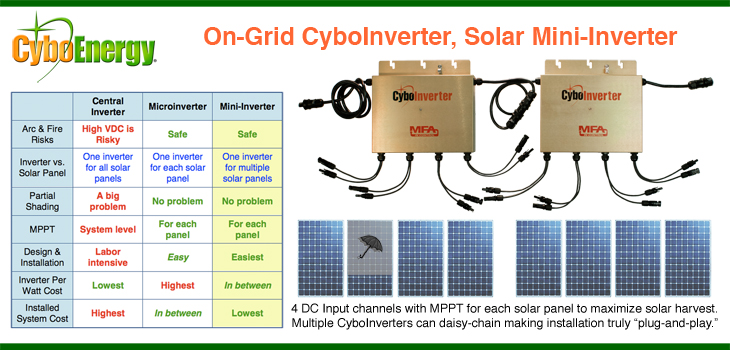 For Solar Panels:
TaleSun BiFacial 400W Solar Thin Glass Panels
We normally build Solar Carport, Patio , Trellis or Awning
Or can build a green house, sunroom. There is a solar glass that you can use as building material.
Because the surface has Graphene coating, tilting the orientation toward the sun is not a problem.
Only less then 1~2% during experiment.  So designer of Solar Glass buildings can neglect the enphases to tilt toward the sun!
Here is a video of similar BiFacial panel but illustrate the benefit of new generation of BiFacial
If you had lands for this kind of stand alone metal structures? Then we will recommend Bifacial Solar Panels that can absorb reflective sun light from back side or underneath.
They are ultra thin, laminated in 2 top/bottom tempered glass.
So your stand alone metal structure with PV glasses as roof
It can receive sunlight from above and then reflected sunlight from below. Double exposure!
The bifacial solar panels is 400W big panel at @$300, 4 panels = $1200
If using reflective surface to reflect more light to the rear side, it will be 400W front and 100W back PV power generation.  It's a 500W solar panel.
Plus the Crab inverter, the total is $2,700 – after Federal Tax Deduction of 22%, self pay amount $2,106
Dimension: 80″x40″x 0.24″ Weight: 65 lbs
Vmax: 40.8V
Voc: 48.9V
Imax: 9.81A
Isc: 10.33A
***Concentration of Sun lights
If you had enough of space/land, you can add reflctor/mirror to increase the amp production
Overheating will not be a problem for mounting PV on top of a metal structure.
Air flow from beneath can cool the energized solar array!
Maximum Concentation ratio for silicon panel is 3X sun light influx
Federal Income Tax 30% Credit for Residential Solar System & Equipment:
=============================================================
In the Inflation Reduction Act of 2022, the tax credit will begin at 30% and step down to 26% in 2033 and 22% in 2034.
==>Download form from this link and give to your accountant
https://www.irs.gov/pub/irs-pdf/f5695.pdf
2022~2032: 30%
2033: 26%
2034: 22%
New Features:
Included Storage Investment, either combine with solar or separately
Tax Credit Deduction can be extended to Next year if the first year tax amount is lower than credit.