GE-304:  Go! Electric! 1000W
Electric 
3 Wheel Flatbed Bull Mini Truck!
Scooter Extended size: 79″ x 32″ x 41″, Weight: 298 lbs!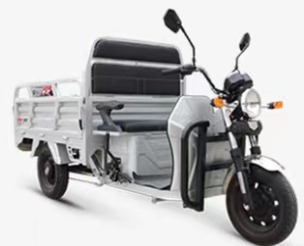 LeadAcid Battery or Lithium Battery pack can be charged by Grid or Solar Power
Price comes with 60V/32A SLA battery
Electric 3 wheel Pick ups is street legal(Only motor size over 1000W needs to register at DMA and license fee is $10/year.   This model is 1000W only!)
Three-wheelers are registered as motorcycles but do not require a motorcycle license or helmet.
The vehicles are not subject to the same crash testing as four-wheeled cars and SUVs.
Electric three-wheelers are eligible for a $750 rebate from the California Clean Vehicle Rebate Project.
Source: https://spectrumnews1.com/ca/la-west/transportation/2021/06/21/five-things-you-need-to-know-about-electric-three-wheeled-vehicles
Video showing a similar Electric Pickup flat bed(ELECTRIC rickshaw  or tuk-tuk)
Which has the most easy to understand details. enable you to learn about the structure of this vehicle!
This pickup does not have the canopy but buyers can build one and adding solar panels like this guy is about to do!
We sell 455W solar panel, perfect company for the Electric Pick up!
No Shipping, Local pick up only!