1. SM-652 Solar Air Contioner – Mini Split Style 48VDC for connection to
1)Exsiting Solar System's 48V battery bank
2)Connecting to a 48VDC MPPT Controller + 3 x 400W Solar Panels(9000/12000BTU) – 4 for 18000BTU
Please click the link to read the Instruction Manual:  Solar Aircon DC48V Installation And Operation Manual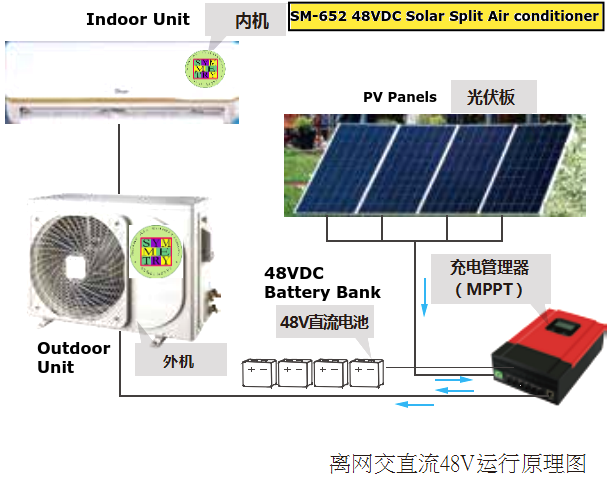 Capacity        Solar Panels              ODU Dimension     Weight             IDU Dimension    Weight
————————————————————————————————————————————––
9000 BTU     1200W                    36″x 25″ x 16″            71 lbs                36″x 11″x 14″            28 lbs
12000 BTU     1200W                    36″x 25″ x 16″           79 lbs               36″x 11″x 14″            28 lbs
18000 BTU     1600W                    36″x 25″ x 16″           92 lbs              45″x 12″x 15″            38 lbs
2.Federal Income Tax 26% Credit:
============================
In December 2020, Congress passed an extension of the ITC, which provides a 26% tax credit for systems installed in 2020-2022, and 22% for systems installed in 2023. (Systems installed before December 31, 2019 were eligible for a 30% tax credit.) The tax credit expires starting in 2024 unless Congress renews it.
==>Download form from this link and give to your accountant
https://www.irs.gov/pub/irs-pdf/f5695.pdf
2020-2022: 26%
2023: 22%
2024: 0%
During Day times, you get free energy to blow cooling air to your space.
At nights, machine can automatically be switched to battery storage or Grid Power, if any!
If you do not have budget for solar, install the Solar Air conditioner first and next month
adding the solar system or next year. When you have more budget to get the power system.
However Solar pays itself back in no time!  Considering half of your utility bill pays for Air Conditioners in Summers!
So you are not actually spending money, just the electric bill saving.  Already enough to pay for this Solar Air conditioner.
3. Refrigerant R32 – please ask your installer to vacuum the passage during installation.
4. Shipping:  Flat Rate Shipping $200 per Indoor/Outdoor Unit Pair – only to lower 48 states only!
***************************************************************
We have 4 different coolers –
are the same price at $19.99/pc
– please look for them at Craigslist or eBay Store
For online orders, We have 4 different coolers – please look for them at our online storeFor online orders, We have 4 different coolers – please look for them at our online store
1. Mini Cooler with 2 water tanks + LED Night Light
https://symmetryco.com/product/mini-swamp-cooler-twin-tank/