The 20ft folding container can be joined together, Head + Tail to be 351 FT or adding a center section to be 526.5 SF
Or adding 2 center sections to be a total of 702Ft
This is a picture of the Joined Triplet  Folding Container (Head + Center + Tail) = 526.5 SF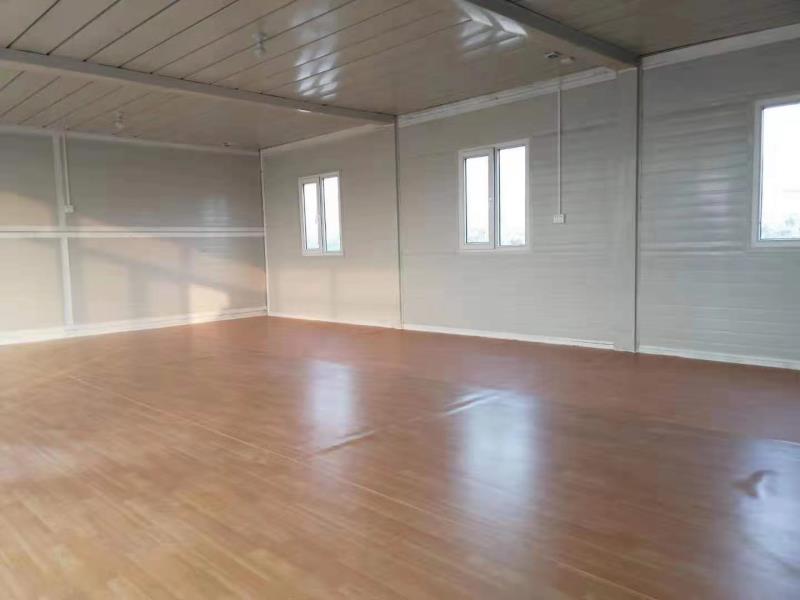 Unlike used Shipping Container, this are brand new Preinsulated Folding container box home!
Spec:  Length 19.5″Ft(5.95 meters) x Height 9.85ft (3 meter) x Width 9ft(2.8 meter)
           about 165 SF & Cost $30/SF each
Weight: 2866 lbs
With 2″ thick Fiberglass Wool Insulation walls, ceiling and the floor.   The steel frame is well insulated for better weather/Earthquake/weather protection. Stronger than still build with timber frame & foam insulation..
Also with Theft Proof Iron Door and Theft Proof Iron-Clad Barred Windows
This is the Joined Twin Container – Head + Tail = 351 SF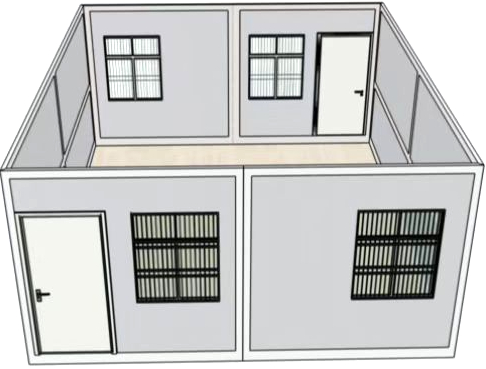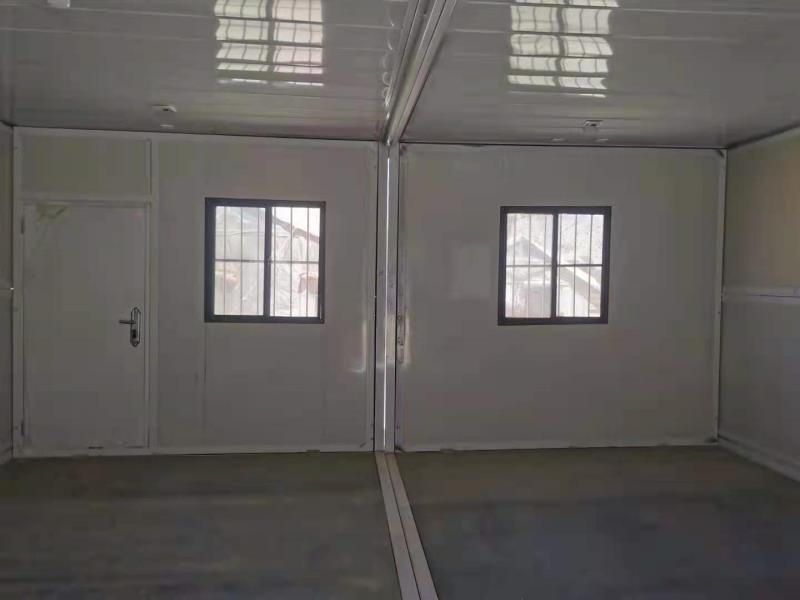 Easy to set up and move in ready with pre-installed Electrical!
Pack your luggage and bed and move into your sweet new room in 5 minutes!
Optional solar system could be purchased together.
According to AirBNB – Solar Container Houses are popular Vocationanl rentals. They racked in more than $20K per container each year for the owners. If you know how to operate AirBNB and the container pays itself back so fast!
Buyer's can add fireproof siding in all possible colors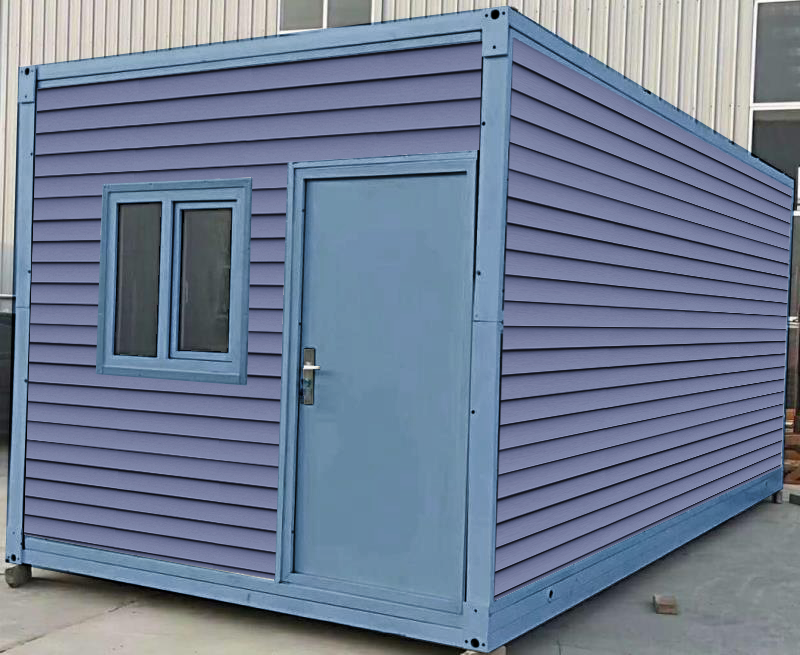 Or using Faux Stone Wall panels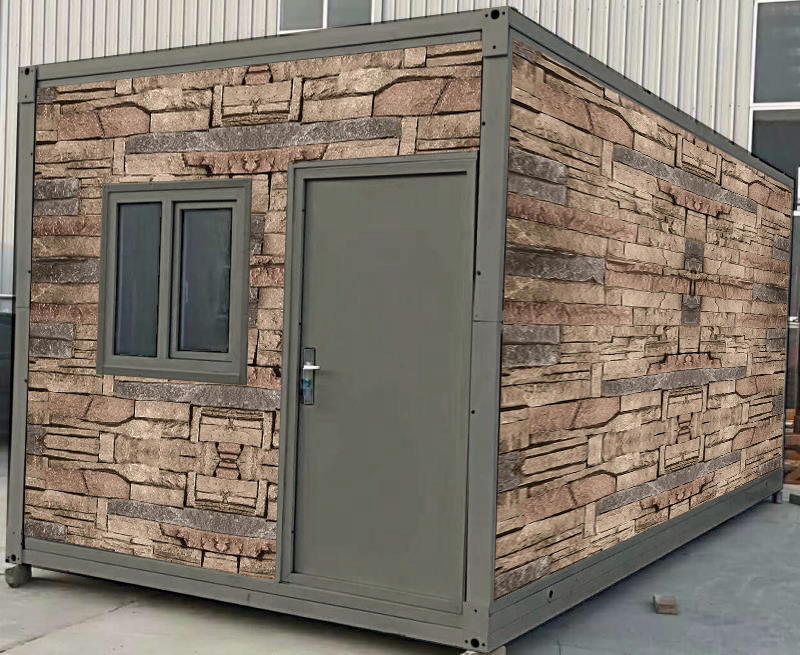 Also can use Glass Panels for the walls, even ceiling!~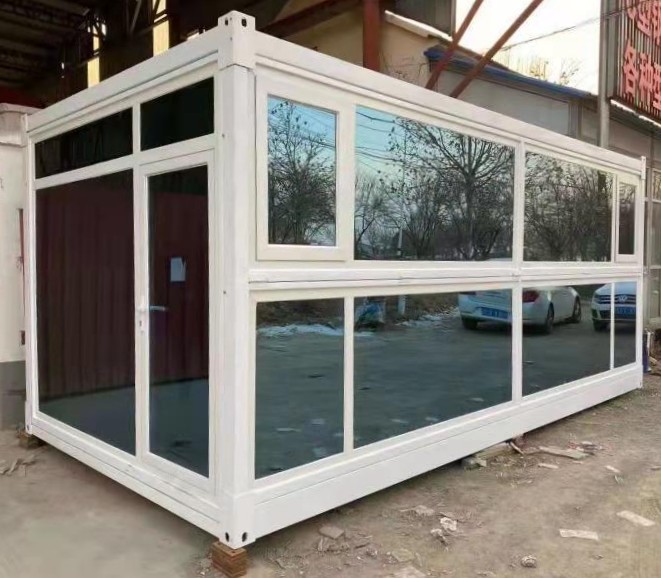 Buyers or designers can also decide where to open the doors or windows or their orientation!

For Shops or Storage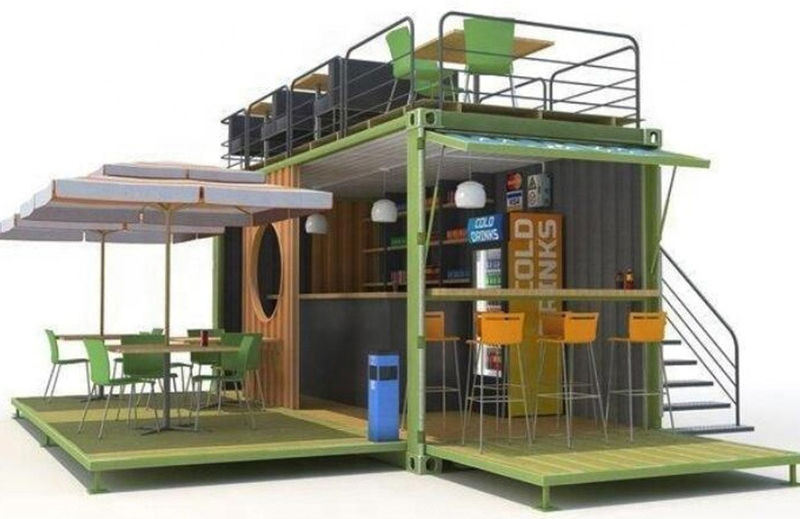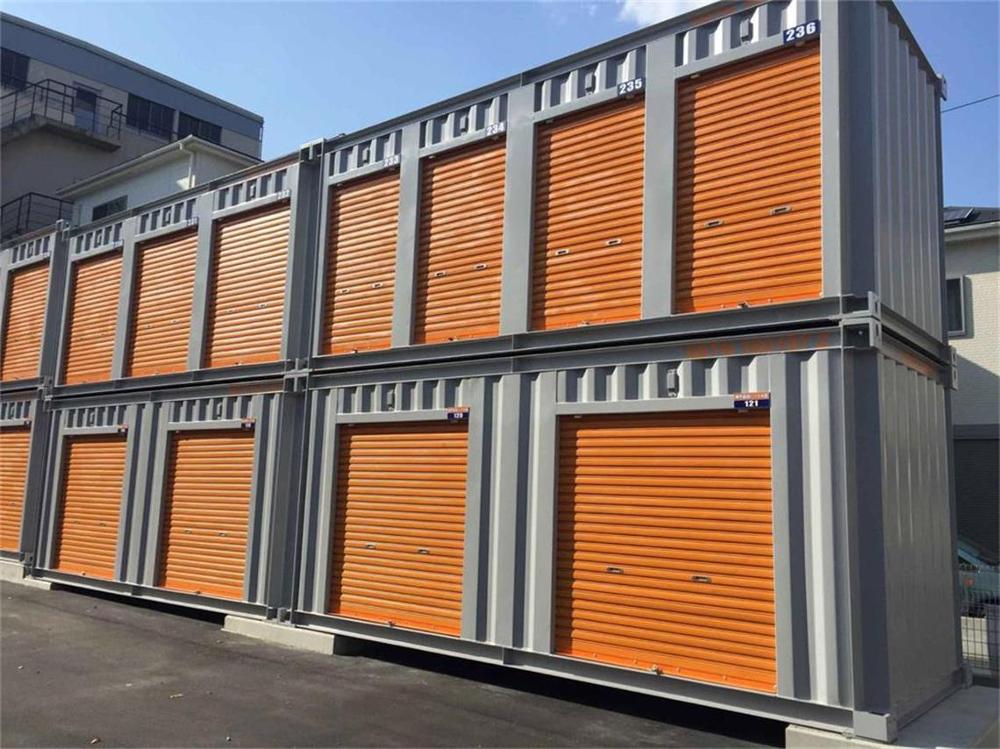 Inside of the Container Room, you can see the Electrical and LED Lighting Socket
They are also stack-able!
Electrical System – Wiring/Outlet & LED lighting for $200, Special discount now at $100 in promotional period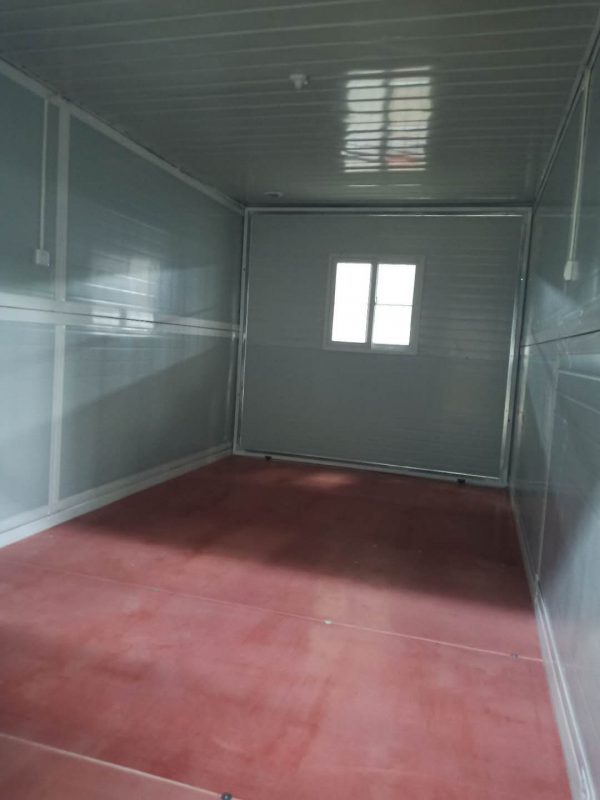 2. Now a prefab bathroom module is ready, coming in boxes besides the folding container.
Dimension: Length 6.2Ft (1.9m) x Width 3.9 ft(1.2m) x Height 7.4 ft(2.25m) = 24.18SF
All the plumbing/Draining pipes are ready underneath for a local plumber to install at the job site
To be installed in one of the folding container and use the other one as bedroom, then you will have a
AirBnb Cabin or a backyard ADU – Guess/Rental house ready! See newly added pictures
The Module comes in 6 packages, total 2 CBM, Special price now $2,500
1)Please check the pictures of 2 containers joined together, buyers can have any combinations
2) If no budget for a 2nd container, the bathroom module can be built inside the sleeping container. Taking only about 14% of the total space. (24.18SF/175.5SF = 13.78%)
**And we are adding wheels to the folding container!!
Look at the wheels that buyer's can push to desired location for installation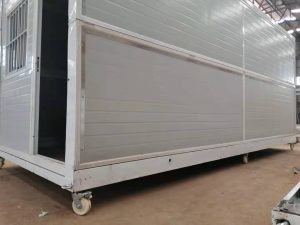 And a Video showing how easy for the push!
Folding Containers can be in any kind of combinations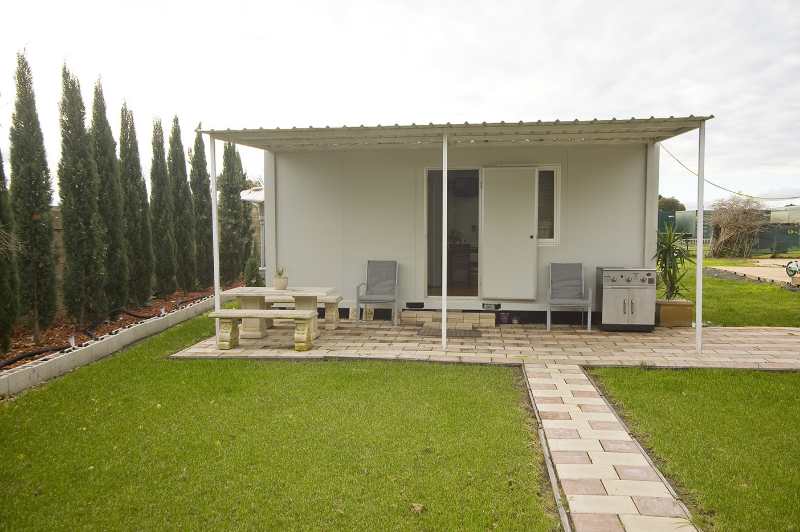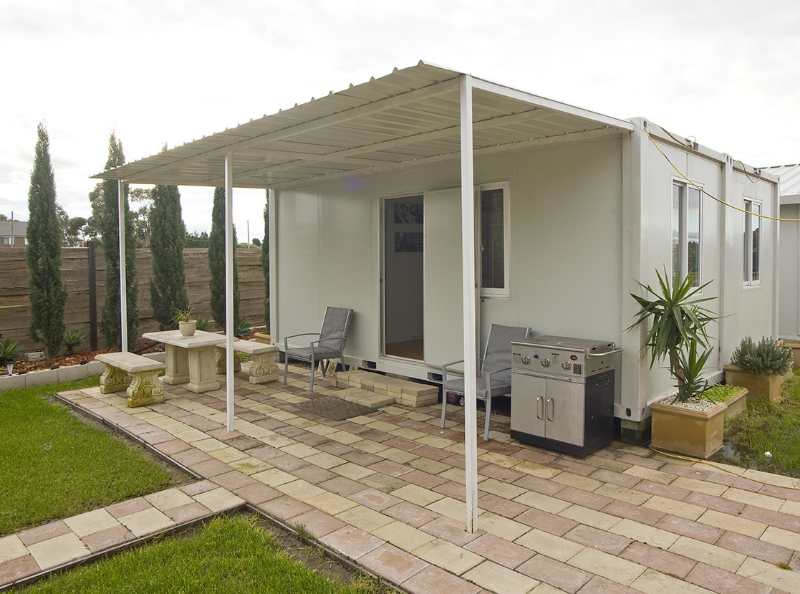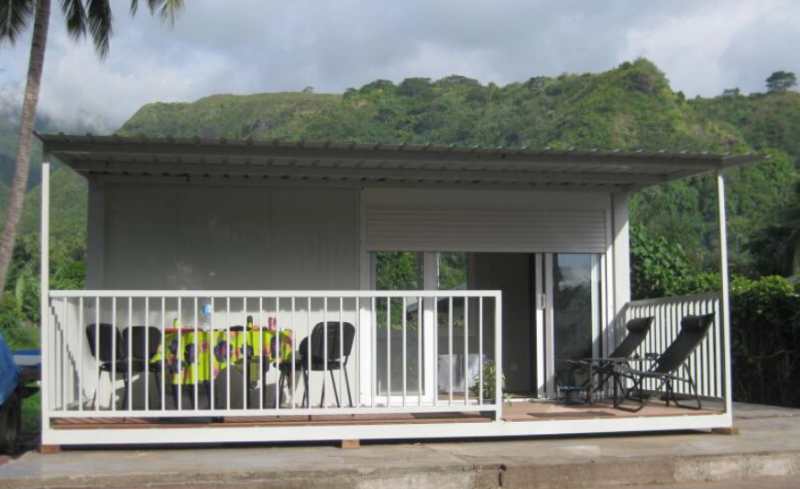 We can add a balcony and Solar Roof on top.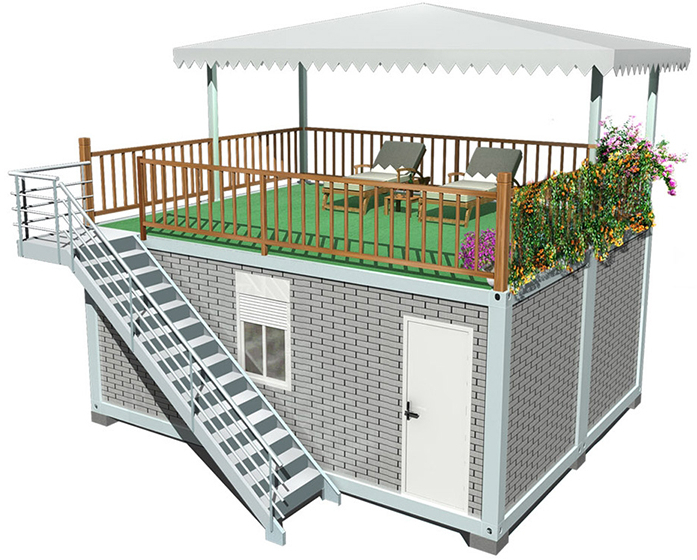 You can ask to paint in any colors or adding your company's logo.

Additional Solar panels/Lithium Power Bank, Furniture/Appliances that are not included, 
Please check for prices
Bathroom/Toilet pictures for reference only.  It maybe cheaper to buy locally to save extra shipping cost.
Federal Income Tax 30% Credit for Residential Solar System & Equipment:
======================================================
In the Inflation Reduction Act of 2022, the tax credit will begin at 30% and step down to 26% in 2033 and 22% in 2034.
==>Download form from this link and give to your accountant
https://www.irs.gov/pub/irs-pdf/f5695.pdf
2022~2032: 30%
2033: 26%
2034: 22%
New Features:
Included Storage Investment, either combine with solar or separately
Tax Credit Deduction can be extended to Next year if the first year tax amount is lower than credit.
Certification for Loan or Insurance:
============================
   This is a 2021 article if you need to get certification of your tiny home.  Find any newer update reports if you could
   on your own!
   https://camperreport.com/rv-park-tiny-home-certification/
   RVIA or NOAH:  Certifying your RV park Tiny Home
   If your land is not in an RV park, please discuss the same guidelines with your local governments.
   May still need to hire a RVIA or NOAH inspector to inspect your mobile homes and get it certified!
   With the certification, your local government should have peace of mind that your tiny house is safe for dwelling.
Electric Incinerating Toilet, No Septic Tank, Back Up by Solar Panels
================================================================
This type of miniature furnace type toilet had been around for 65 years, good for areas that do not
have sewage system or septic tank service.
All the wastes will be burned into ashes, a quickest way to compost and can be used as fertilizer or disposed of!
600 degrees can burn pathogens and pollutants, a good hygienic way to treat wastes in a remote area.
*********************************************************
Order On Line:
https://symmetryco.com/product/428sf-expandable-container-house/
https://symmetryco.com/product/280sf-expandable-studio-house/
https://symmetryco.com/product/800sf-modern-expandable-house/